Paul David & Sandra Freed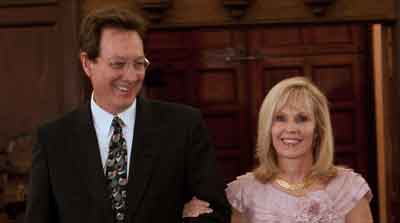 Dr. Paul Freed has appeared on ABC, CBS, and NBC television and radio news and debate shows, and has hosted his own radio program aired in 21 states. He and Sandy authored the book,
The Marriage Makers.
Whether on radio, TV, or at public conferences, Paul has reached hundreds of thousands of marriages and families with his positive, upbeat approach to everyday marital pressures.
Paul did his undergraduate work at Wheaton College and Philadelphia Biblical University, while doing his graduate work at Dallas Theological Seminary, Homestead College of Bible, and University of Oxford (England).
He has traveled, lived, and ministered in seventy nations. His background includes having been President of Marriage Makers and Mighty Men of God and also Vice President of Promise Keepers. He is author and publisher of The Marriage Makers, Mighty Men of God, and Reaching Muslims for Christ (with Dr. Ralph Freed).
Sandy grew up in Charlotte, North Carolina, and graduated from Trinity University in Deerfield, Illinois, with honors. She is a songwriter and soloist and her self-composed album "Pure Love" has been performed and heard nationally.
Her life experiences include having been a Middle School teacher, owning a Christian bookstore, and founding an International Adoption Agency. Sandy, with her gentle and wise spirit, has spoken to 10,000's of women nationally as well as in Africa and eastern Europe.
With over thirty years of marriage, three grown children, and three grandchildren, Paul & Sandy make their romantic home in Orlando, Florida.